Konsep motor dengan nama "Tomahawk" yang artinya Kapak Indian telah dipamerkan oleh perusahaan
Daimler Chrysler.
Motor dengan 500 tenaga kuda V-10 menggerakkan roda belakang yang ganda mampu memicu kendaraan radikal ini dengan kecepatan tertinggi sebanyak hampir 400 mil per jam.
Spek dari motor ini dapat dilihat dibawah.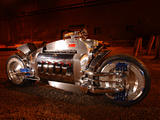 GENERAL INFORMATION
Body Style: Single-seat Viper-powered motorcycle concept vehicle
DIMENSIONS:
Overall Length: 102 inches
Overall Width: 27.7 inches
Overall Height: 36.9 inches
Wheelbase: 76 inches
Seat Height: 29 inches
Curb Weight: 1,500 lbs.
Track, Front: 8.75 inches
Track, Rear: 10 inches
Weight Dist., % F/R 49/51
Ground Clearance: 3 inches
Fuel Tank Capacity: 3.25 gallons
ENGINE: 8.3-LITER, OHV, 20-VALVE SMPI V-10
Type and Description: 10-cylinder 90-degree V-type, liquid-cooled
Displacement: 505 cubic inches (8277 cc)
Construction: 356-T6 aluminum alloy block with cast-iron liners, aluminum alloy cylinder heads
Bore x Stroke: 4.03 inches x 3.96 inches (102.4 x 100.6)
Valve System: Two pushrod-actuated overhead valves per cylinder
with roller-type hydraulic lifters
Fuel Injection: Sequential, multi-port electronic with individual runners
Compression Ratio: 9.6:1
Power (SAE net): 500 bhp (372 kW) @ 5600 rpm (60.4 bhp/liter)
Torque (SAE net): 525 lb.-ft. (712 Nom) @ 4200 rpm
Max Engine Speed: 6000 rpm
Fuel Requirement: Unleaded premium, 93 octane (R+M/2)
Oil System: Dry Sump
Oil Capacity: 8 qts. Mobil1 10W30 Synthetic
Cooling System: Twin aluminum radiators mounted atop engine intake manifolds, force-fed from front-mounted, belt-driven turbine fan
Coolant Capacity: 11 qts.
Exhaust System: Equal-length tubular stainless steel headers with dual collectors and central rear outlets
ELECTRICAL SYSTEM:
Alternator: 136-amp high-speed
Battery: Leak-resistant, maintenance-free 600 CCA
Lighting: Headlights consist of 12 five-watt LEDs, front, with beam-modifying optics and masked lenses. Eight LEDs, rear. Headlamps articulate with wheels.
TRANSMISSION: Manual, foot-shifted two-speed
Type: Aluminum-cased two-speed, sequential racing-style with dog ring, straight-cut gears
Gear Ratios:
1st 18:38
2nd 23:25
Clutch: Double-disc, dry-plate with organic friction materials, hand lever actuated with assist
FINAL DRIVE: Dual 110-link motorcycle-style chains
Front Sprockets: 14 teeth
Rear Sprockets: 35 teeth
BODY/CHASSIS:
Layout: Longitudinal, centrally mounted engine, rear-wheel drive
Chassis Construction: Monocoque, engine is central, stressed member
Body Construction: Billet aluminum
SUSPENSION:
Front: Outboard, single-sided parallel upper and lower control arms made from polished billet aluminum. Mounted via ball joint to aluminum steering uprights and hubs. Five degrees caster. Single, fully adjustable centrally located coil-over damper (2.25-inch coil with adjustable spring perch); pullrod and rocker-actuated mono linkage. Center-lock racing-style hubs
Rear: Hand-fabricated box-section steel inboard swing arms, incorporating "hydral-link" lockable recirculating hydraulic circuit parking stand. Single fully adjustable centrally located Koni coil-over damper (2.25-inch coil with adjustable spring perch); pushrod and rocker-actuated mono linkage. Center-lock racing-style hubs
STEERING:
Type: Dual hub center type.
Steering Linkage: Rocker arm and push/pull rod with roller bearings. Polished billet aluminum steering yoke with turned aluminum grips and billet levers
Steering Lock: 20 degrees, left and right
Lean Angle: 45 degrees, left and right
TIRES (4):
Mfr. and Model: Dunlop custom-made symmetrical
Size, Front (2): P120/60R-20
Size, Rear (2): P150/50R-20
WHEELS (4):
Type and Material: Billet aluminum discs, asymmetrical
Size, Front (2): 20x4
Size, Rear (2): 20x5
BRAKES:
Front: 20-inch perimeter-mounted drilled machined stainless steel rotors, one per wheel. Two four-piston fixed aluminum calipers per wheel (16 pistons total), custom designed. Blue anodized caliper finish. Hand-activated.
Rear: 20-inch perimeter-mounted drilled cast-iron rotors, one per wheel. One four-piston fixed aluminum caliper per wheel (8 pistons total), custom designed. Blue anodized caliper finish. Foot-activated.
PERFORMANCE:
0-60 mph: 2.5 seconds (est.)
Top Speed: 300+ mph (est.)
0 komentar to "Motor konsep Dodge Tomahawk"